The Washington Post Article on the Championships is out.
Madison worked well with the Vienna Patch – an article about their winning teams – You have to give them credit for doing this perfectly all season.
Ever want to know what it is like to race at the Occoquan?  Bishop Sullivan was there with their camera – here is the awesome video.  Thanks to Bishop Sullivan for having such an great website and videos all season!
More stuff at the bottom of the post…
---
I went to states with every intention of tweeting the results.  I had gotten permission to stand in the coach's area.  I thought this would give me a good view of the finish line.  I had developed a method where I would use two IPAD apps – Text-Expander and Twitterific – to create the results quickly.  I had designed it so I could tweet while taking pictures, but I found I couldn't keep up.  I probably spent about 6-8 hours putting this system together. It all hinged on whether or not I could get a good cellular signal.
I couldn't.
My attempts to connect failed about 80% of the time.
It turns out it didn't matter – I was obsolete 30 minutes later.
While in the coach's area I noticed there were two wireless signals coming from the finish line stand.  I walked over to ask if I could connect.  As I stood there waiting for the right moment, this young man asked for the same thing.  He had his laptop and intended to tweet the results (I guess he had done it at the Charlie Butt Regatta as well.)  Within 15 minutes he had created an account, loaded the VASRA logo, and devised a plan to get his hands on the results after they were read by the announcer.
So after hours of development and planning – I wasn't needed.  As you may have noticed, they also found a way to tweet finish line photos.  I never could have done that.
The results started slowly, but he got much quicker as he developed a way to copy/paste the team names.  Soon he would have the tweet out in less than a minute after being passed the results.  It was nice to watch, even if did make me feel a little…  embarrassed.
The benefit here is that it allows people who aren't at the finish line to get the results.  By the end of the day he had 114 followers and 110 tweets – after having none at the beginning of the day.  Imagine how many followers he would have if people expected tweets before the race!
I think this was probably a one-time good deal provided by a Yorktown (I believe) grad named Andrew (I believe.)  He sat there from 7am to 5pm furiously pounding out results. and pictures.  He added his name to the hundreds of unsung volunteers that make these races so successful.
If you liked the tweets you might want to tell your VASRA rep, and perhaps they can plan for it during next year's regattas.
So it was a good thing I brought a couple cameras – but I didn't bring my long lens.  I took some pictures at the finish line of the races.  They weren't that good, but some teams might like them.  I hope to post one picture from each boat that raced that day.  I should have them up in a couple weeks (I figure everyone is busy with Stotes right now…)
---
DMV still has some discussion of the results going on.  Their predictions were really good.
The Weather in Philadelphia looks good for this weekend.
Here is the Stotesbury 2012 page if you are interested.
SRAA Nationals Entry Deadline is 15 May – You can see the teams entered at Regatta Central.
Lake Braddock has a nice pic on their website: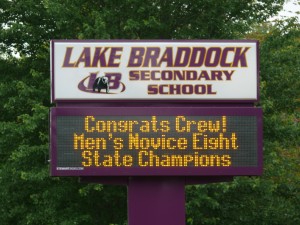 South County Updated their Homepage with a couple pictures of their winners as well.
TCWCrewBoosters has uploaded a few videos from the VSRC Championship on their Youtube Channel.
NCSSTARowing also has videos from the VSRC Championship on their Youtube Channel.
Good luck to everyone going to Stotesbury!