Of course – I didn't get a good picture of it.
I was at the finish line taking some pictures.  Somebody else was doing the tweeting.  That's a whole 'nother story I won't get into here.  Here is the best picture I had of Washington-Lee's second place in the finals. St Albans is already out of the picture – TJ is on the far side.

You would think the finish line would be a great place to watch the races.  It isn't.  You still have a very difficult time knowing which team is in first.  I thought TJ was in front by about 5 feet.  I had zoomed out and focused on them.  I knew Washington-Lee was close.  I didn't know how close.  I tried to recompose the shot at the last minute.  In any case, it is an awful picture. Sigh…
The eights are probably the most analyzed and predictable races.  There aren't many surprises.  Washington-Lee beat 4 other teams in that final that nobody expected them to: TJ, Yorktown, Madison, and Westfield.  Actually – some people didn't even choose them to be in the final – they chose Oakton instead.  Washington-Lee beat Oakton in their heat (and Oakton was good – they won the Petite final.)
Competing is about doing your best and improving – not necessarily about winning it all.
So what did these 9 individuals in the W-L boat do yesterday?  By my calculation, they improved by somewhere between 5 to 7 seconds over their previous efforts.  To put that in perspective, had TJ or Yorktown improved that much, they would likely have been neck-and-neck with STA.  Everyone would have noticed that.
How predictable are these races?  For comparison – on the left side was my predictions for this race (finals and petite) – on the right is the actual finish order: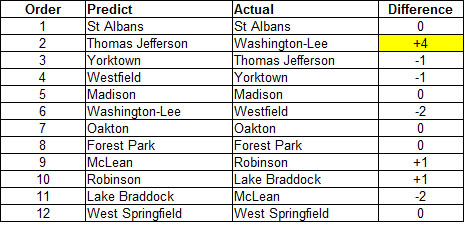 This was a monster race by this team – a fantastic performance – an incredible improvement.
Congratulations to the 9 members of the Washington-Lee 1st Eight on a great race yesterday.