I read somewhere that "epic" is one of the most overused words in the English language.
It still fits.
Two weeks ago, the Women's First Eight had to be the dullest category in the bunch.  The Madison women would routinely walk into a regatta and destroy the rest of the field.  Look at some of these margins of victory this year:  12 seconds, 9 seconds, 7 seconds, 18 seconds, 10 seconds, 21 seconds, 10 seconds.  I've seen boats with missing rowers finish closer than this.    They are really in a league of their own.
Then something magical happened….
And by magical I mean… if you are a blogger struggling with a way to make this post interesting so that people will read it…  magical.
While sports is the competition to see who is best – sometimes we want a little theater thrown in.  We want to see something like ricky bobby running to the finish line after a big wreck. (Talladega Nights would be required viewing if I were principal…)
Our My prayers have been answered.  Stepping into the role of 'scrappy underdog' are the women of NCS.  At the Charlie Butt Regatta their heat time matched Madison's.  And in the final race they were runner-up by less than 2 seconds.  Dare I say that we have a legitimate contender?
I'm not advocating for one team or another.  As a spectator I like to see an exciting race.
But this post isn't about writing movie scripts – its about making predictions…
I predict Madison wins, NCS second.  NCS has not yet beaten Madison – and that is a key point I use for making my predictions.
But I'd love to see a photo finish…
Here are the entries from RegattaCentral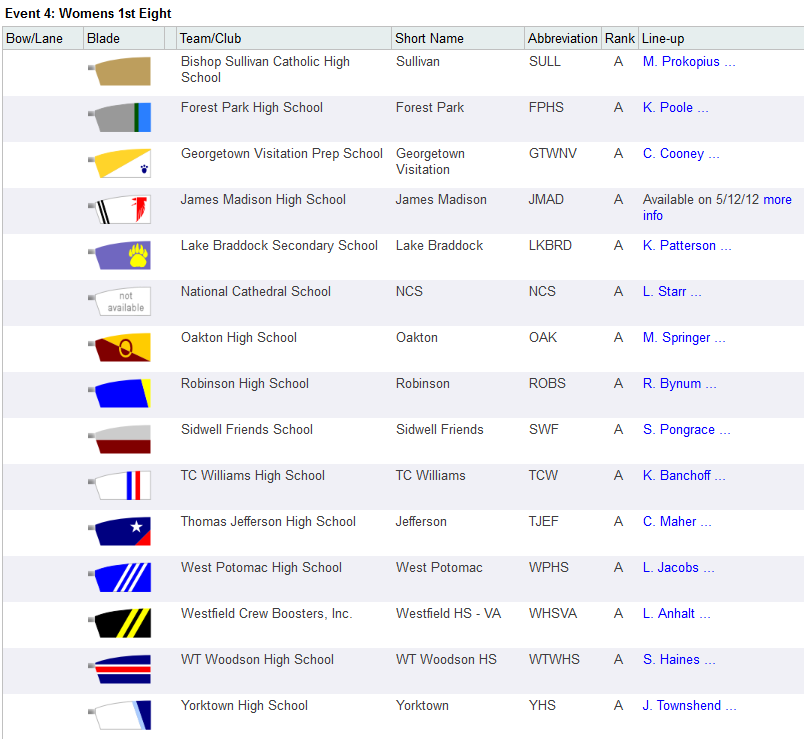 Vying for that third spot are probably two teams that I haven't seen race against each other – TJ and TC Williams.  TJ was within 7 seconds of Madison on 31 March.  TC was just behind NCS in the heats at the Charlie Butt.  Without a head-to-head race it is hard to tell them apart.
I'm going to go with the simplest interpretation of my charts and choose TJ in the third spot, with TC Williams fourth. I wouldn't be surprised if this were reversed.
The next 4 teams are very closely grouped.  I'm going to Offer them up in the order they finished the Al Urquia:
Robinson, Oakton, Woodson, Westfield
I have a hard time distinguishing between these.
Yorktown is difficult to figure.  They don't seem strong enough to beat TJ or TC.   They could be better than the group of 4 – or they could be in the middle of the group.  My gut says to put them in the middle.  Their performance in the TBC Tussle would put them above this group.  Their performance at the Charlie Butt would put them in the middle.  Given the fact that Woodson edged them out on 31 March (early in the season)  – I'll put them in the middle.
Sidwell Friends, Lake Braddock, Forest Park, Georgetown Visitation, West Potomac, and Bishop Sullivan will all struggle to make the finals here
Finally – with 15 teams (I expect 3 heats of 5) and fairly evenly matched teams, I expect the competition in the heats will be intense for the two transfer spots.  Endurance will count a lot towards performance in the finals.