Normally I try to get the heat sheets before I attempt this.  But if I did that I would never get this written.  Don't be surprised if I make mistakes…  So here goes…
A side note: DMVRowing has posted her State's Predictions as well.
Here are the teams which are entered from the Regatta Central site: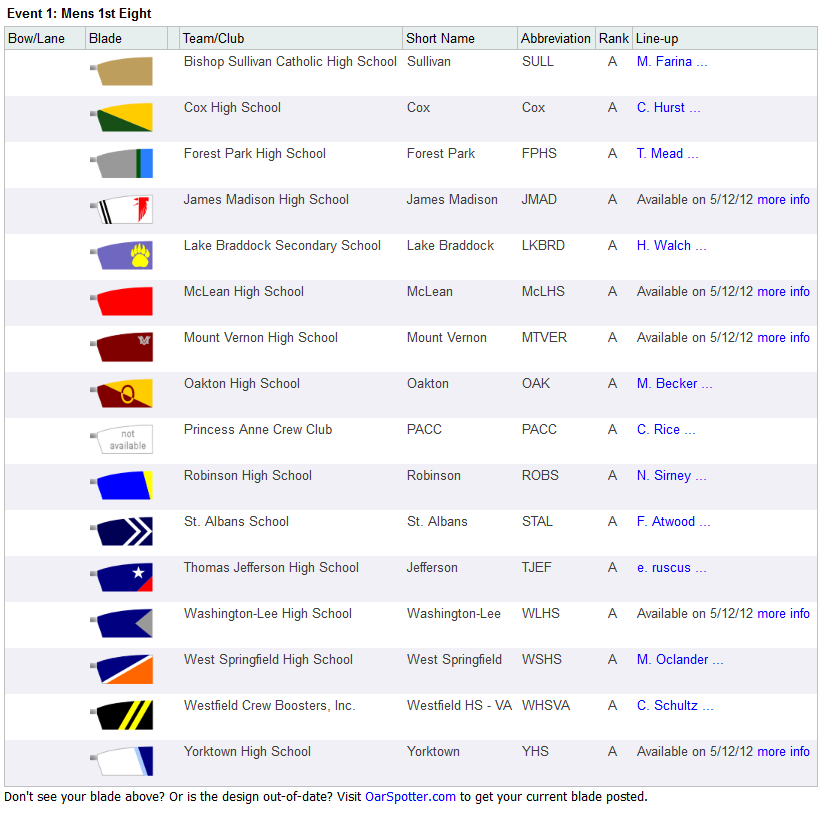 Despite their defeat at the hands of Gonzaga last week by 4.5 seconds, I still think St Albans is the leader in this field.  The margin of victory was a bit surprising to me, but if anything that would indicate that STA had a weak race (or a monster Gonzaga performance), rather than some core performance issue.  In other races STA has cruised pretty well against the local competition. While they don't have a lock on this race – they certainly seem to be in the strongest postion.
So who come into second?  This is an interesting question.  I don't believe STA has raced TJ in a head-to-head match-up this year.  But against similar teams STA has won by a bigger margin.  One team STA and TJ have in common is Yorktown.  TJ beat Yorktown by about 5 seconds in the Regional Park regatta on 31 March.  STA beat Yorktown by 6 seconds at the Charlie Butt Regatta.
But I don't think the analysis is that simple.  It looks to me like Yorktown has improved over the course of the year.  TJ might have (they traditionally do).  Ultimately, I think these teams are closer than the margins might show.  But given the results I'm inclined to give the nod to TJ, with Yorktown coming in third.
Going past the top three we have the second set of competitive teams.
Next on my list would be Westfield.  Last year Westfield had a strong team throughout the season and ended extremely well.  This year they started out a bit weaker.  Their Polar Bear was unremarkable.  But since then they seem to have regained some of their power – finishing a close second in the Al Urquia.  On par with Yorktown?  Its hard to say.
Madison is probably next on my list.  Madison is probably the best strategic team out there.  They always seem to put in their best performance in the finals.  Madison was a close second to BCC in the Darrell Winslow, and a winner in the Smokey Jacobs.  They competed well in the Charlie Butt, coming ahead of Washington Lee and about 5 seconds behind Yorktown.  Considering the high level of competition, I'm not sure there will be much strategy this weekend except "go fast."
Next on my list would be Washington Lee.  Washington Lee was a close second to Yorktown in the Arlington Cup, a close second to Madison in the Smokey Jacobs, and followed Madison closely in the Charlie Butt Regatta.
Oakton probably comes next.  They started the season with a couple great performances but have tapered a little bit.  With one of their best performances they are probably on par with Madison, but I'm not sure they have enough to catch Westfield.
Forest Park and McLean seem to be pretty close to Oakton as well.  Certainly within distance of them – so these three teams could mix together.  Robinson started the season very well, but threw in a clunker in the Al Urquia.  So much so that I have to believe something was wrong.
Lake Braddock, West Springfield, and Mt Vernon are up against tough competition.
For our Southern neighbors, it looks as though Bishop Sullivan has the best chance, followed by Cox and Princess Anne (based solely on the EVSRA finals two weeks ago.)  I don't think any of these teams has the power to threaten the top set of teams in this event.  (The site is "Nova-Rowing" – what else am I going to conclude?)
Next post – W18.